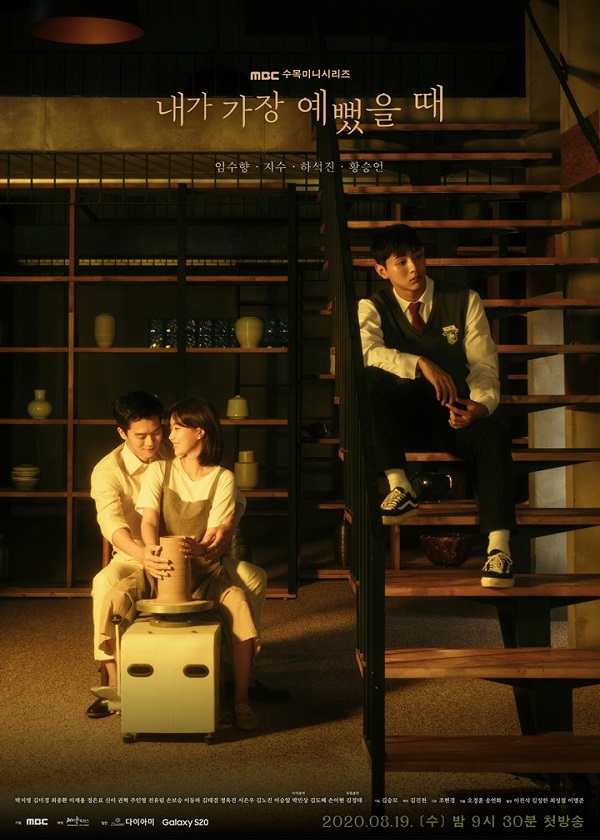 "When I Was The Most Beautiful : 當我最漂亮的時候" is about Oh Ye Ji is a ceramic artist. She has a pure heart and relentless optimism and refuses to give up no matter the situation. She dreams of finding ordinary happiness but in a cruel twist of fate gets caught in a love triangle with two brothers, Seo Hwan and Seo Jin.
Seo Hwan, an architectural designer, is an innocent young man who falls in love with Oh Ye Ji at first sight. His feelings put him at odds with his older brother Seo Jin, but he can't let go of his fateful first love.
Seo Jin is a race car driver and the leader of his rally team. He is cool and reserved on the outside but is ruthless in the pursuit of what he desires. When he meets Oh Ye Ji for the first time at his father's workshop, he instinctually feels attracted to her.
Carrie Jung, described as a femme fatale, is Seo Jin's ex-girlfriend and marketing partner. She is charismatic, but she is also intensely jealous over her ex-lover and has a selfish and egoistic streak. She feels passionate love for Seo Jin, whose rally team she used to sponsor, and is unable to let go of him even after they break up.
该剧讲述的是同时爱上同一个女人的兄弟之间危险的爱情和残酷命运的故事。林秀香将饰演的是志洙的初恋兼陶瓷艺术家"吴艺智"。志洙饰演河锡辰的弟弟兼建筑设计师"徐焕"。河锡辰饰演志洙的哥哥兼拉力赛车手"徐真",黄承言饰演河锡辰以前的恋人兼营销伙伴"凯莉·郑"。
Other Names: 내가 가장 예뻤을 때 / When I Was the Prettiest / My Prettiest Days / naega gajang yebbeosseul ddae / My Prettiest Moments
Release Date: 19 Aug2020 – 08 Oct2020
Language: Korean
Genre: Romance, TV Series, Korean Drama
Running Time: 32 Episodes
Director: Oh Kyung Hoon (오경훈, 吳慶勳)

| | | |
| --- | --- | --- |
| Stars | | Cast |
| Im Soo Hyang (林秀香, 임수향) | – | 吳芮智 (陶藝家。一個性格堅強、純真大方,在任何情況下都不會氣餒和放棄的人物,也讓徐氏兄弟深陷在她的獨特魅力之中。) |
| Ji Soo (金志洙, 지수) | – | 徐煥 (建築設計師。陷入禁忌愛情、無法放下命運般初戀對象吳芮智的純情男子) |
| Ha Seok Jin (河錫辰, 하석진) | – | 徐鎮 (賽車手。徐煥的哥哥,認定目標就勇往直前,低沉的聲音讓無數女人為他心動) |
| Hwang Seung Eon (黃勝妍, 황승언) | – | Kelly鄭 (徐鎮的前女友。擁有性感的魅力,依舊喜歡著徐鎮,也是他生意上的夥伴) |

When I Was The Most Beautiful Trailer:
Chinese Episodes:
English Subtitles Episodes: