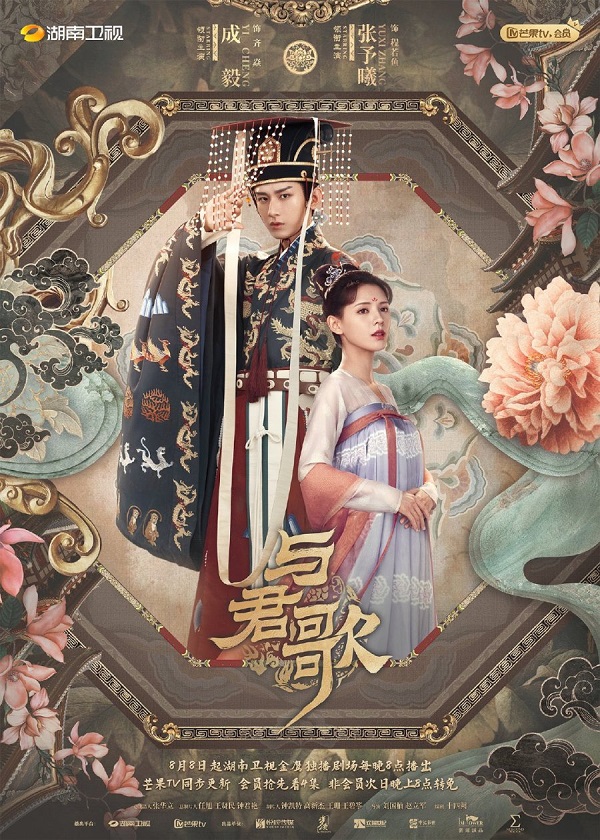 "Dream of Chang'an – 与君歌" is about story of the fateful reunion of twin sisters Cheng Ruo Yun and Qiu Yan Zhi as they become involved in political affairs upon encountering the young Emperor Li Yan.
The eunuchs have gained control of the palace during the reign of Emperor Wen Zong of Tang. Hoping to free the nation from their clutches, Emperor Wenzhong secretly plots to assassinate the head eunuch Qiu Shi Liang, but their plan ends in utter defeat. Prime minister Wang Ya's entire household is sentenced to death except for his granddaughter's twins who barely escape death. The younger sister who is adopted by the Ziyi Bureau assumes the name Yu Bing Er. Determined to take revenge, the older sister changes her name to Yan Zhi and becomes Qiu Shi Liang's goddaughter.
Seven years later, Emperor Li Yan ascends to the throne. Li Yan resorts to using the Ziyi Bureau to fight against Qui Shi Liang. As a result, the two sisters meet again as enemies unable to recognize their relation by blood.
故事讲述了唐末文宗年间宰相旺涯满门抄斩,两个死里逃生的姐妹多年后以不同身份相遇,并且帮助新帝李炎重振大唐的故事。本剧根据飞花中篇小说《剑器行》改编。
Other Names: 北宫紫衣局 / Awakening Chang'an / Bei Gong / Meng Xing Chang An / Chang'an awakening / Meng Xing Chang An / 梦醒长安
Release Date: 08 Aug2021 – 31
Aug2021
Genre: Historical, Romance, TV Series, Chinese Drama
Running Time: 49 Episodes
Director: Zeng Li Zhen (曾丽珍)

| | | |
| --- | --- | --- |
| Stars | | Cast |
| Cheng Yi (成毅) | – | 李炎 (少年天子,英俊优雅,锋芒暗忍,容止端雅,与程若鱼是知己,一路与其陪伴成长) |
| Zhang Yu Xi (张予曦) | – | 程若鱼 (紫衣局执剑人,手握利剑,紫衣局是李炎用来铲除仇氏势力的工具,和李炎是知己好友,和仇烟织是失散多年的亲生姐妹,不忍姐姐被仇恨如此折磨) |

Dream of Chang'an Trailer:
Chinese Episodes:
English Episodes: