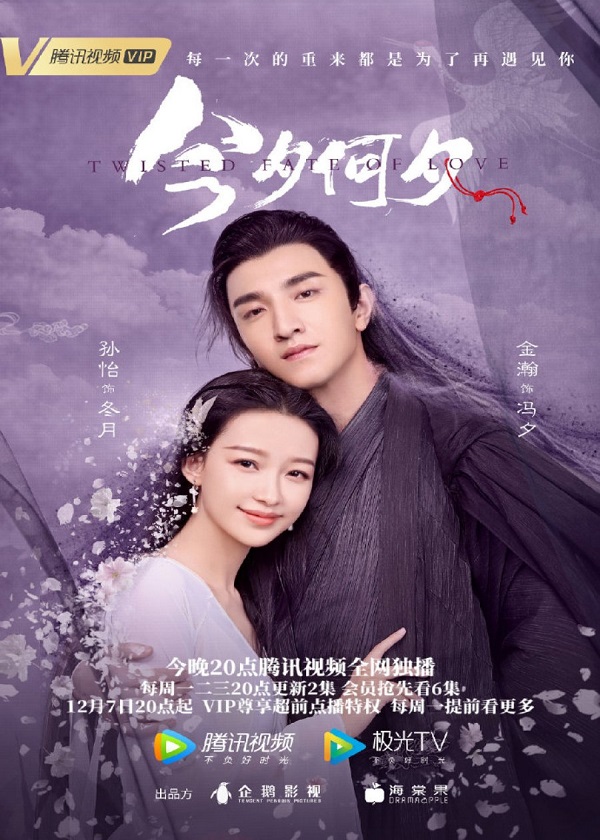 "Twisted Fate of Love – 今夕何夕" is about story of the oldest of friends, Third Prince Pang Yu and Minister Feng Xi have spent a lifetime caring for each other as brothers. As different from each other as night and day, the two friends were an unlikely pair but their friendship has successfully stood the test of time. But their lifetime of friendship begins to crumble, after meeting the passionate and lovely Dong Yue.
A brave general in the Dingyuan Rebellion, Dong Yue was sent back in time to stop a war that would claim the lives of countless innocents. It was during her travels through time that she met both Feng Xi and Pang Yu. Though Dong Yue's presence in Pang Yu's life inspired him to involve himself in the political workings of his family, his sweet disposition somehow never managed to capture Dong Yue's heart. On the other hand, Feng Xi's roguish charms touched Dong Yue's heart in a way she had never experienced before. Though caring for both of the friends, it wasn't her mission to travel to time simply to fall in love. There was a war-mongering villain who needed to be stopped.
With Lu Yuan Tang poised to tear the nation apart, Dong Yue must find a way to stop him. But it's not a task she can accomplish on her own. Only with the help of Pang Yu and Feng Xi's help, will she be able to set things right. Will she be able to reconcile two brothers divided by jealous hatred or are her people doomed to suffer an unimaginable fate?
该剧讲述了大胤年间,饱受战火之痛的冬月为保苍生,重回战乱前,刺杀引发战乱之祸首陆远潼,"奸臣"冯夕为母族平反算无遗策,与执着刺杀陆远潼的冬月生死相斗又生死相救,情愫暗生,但冯夕的"不择手段"引起冬月误会,冬月的冲动刺杀导致战争提前爆发。冬月再回过去,决定相信冯夕,一同对抗陆远潼,但冯夕却失去了对冬月的所有记忆,这一世冯夕身世浮出水面危机重重,冬月默默守护令冯夕再次爱上了她,冯夕为完成她止战的愿望放弃为母族平反的谋算,与陆远潼同归于尽。痛失所爱的冬月第三次回到过去,救活冯夕并帮助他替母族平反,二人携手打败陆远潼,平息了战乱,还天下以太平。
Other Names: Jin Xi He Xi / Jinxi He Xi
Release Date: 23 Nov2020 – 21 Dec2020
Language: Chinese
Genre: Romance, Historical, TV Series, Chinese Drama
Running Time: 43 Episodes
Director: Wai Honto (卫翰韬)


Twisted Fate of Love Trailer:
Chinese Episodes:
English Episodes: