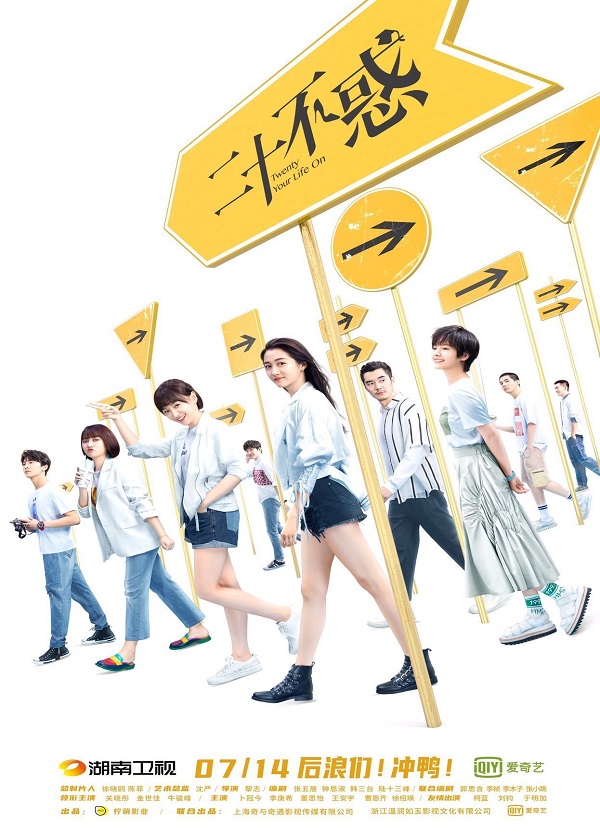 "Twenty Your Life On – 二十不惑" is a story about the worries of youth as they enter adulthood is told from the perspective of four girls who are about the graduate from college.
Being someone with no power nor looks nor money, Jiang Xiaoguo has always envied her three roommates.
Duan Jiabao who comes from a wealthy family has simple desires. She is carefree and only cares about chasing after celebrities and eating good food. Luo Yan may despise her mother's tendency to become too overbearing, but at least she can rest assured that her future is in good hands.
Liang Shuang is beautiful and a go-getter. Even though she is only a college senior, she has already proven herself more than capable to adapt to society. However, she does not know that every person will have their own crosses to bear. Duang Jiabao gets a taste of first love only to realize that she and her friend have fallen for the same man. In trying to understand her mother, Luo Yan learns her mother's long-kept secret. Meanwhile, Liang Shuang still needs to learn how not to hurt the people who care for her. In one year, the four ladies gradually become closer.
讲述了四个即将毕业的大学女生,在即将迈向社会的一年中,经历一系列挫折,但最终在生活和职场上收获了爱与成长的故事。站在校园与社会的分水岭,每个人都有自己要打败的困难和要解决的难题。《二十不惑》通过细小的生活琐碎,真实的情感表达,解读当下的年轻人青春最好的模样。在这个青春未脱、成熟不达的年纪,二十岁的她们遇到了很多疑惑,关于事业、友情、亲情和爱情。所幸的是她们总是对未来充满期待,对她们而言二十没有定义,怎样都对怎样都好,即使过得不获,也要活得不惑。 二十的后浪们!冲鸭!
Other Names: Twenty Not Confused / Er Shi Bu Huo
Release Date: 14 July2020 – 05 August2020
Language: Chinese
Genre: Friendship, Youth, Romance, TV Series, Chinese Drama
Running Time: 42 Episodes
Director: Li Zhi (黎志)


Twenty Your Life On Trailer:
Chinese Episodes:
English Episodes: