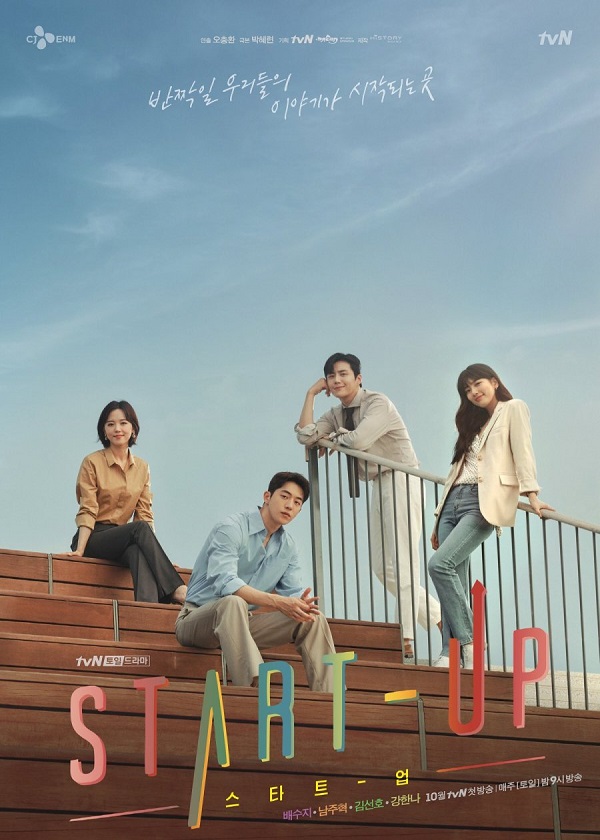 "Start Up – 启动了" is about story set in South Korea's fictional Silicon Valley, called Sandbox, and tells the story of people in the world of startup companies.
Seo Dal Mi dreams of becoming Korea's Steve Jobs. She's an adventurer who doesn't own much, but has a grand plan for herself. She also has experience in a wide range of part-time jobs and is a person of great vitality.
Nam Do San is the founder of Samsan Tech. He was once the pride of his family as a math genius, but for the past two years, he's been going nowhere with his company's investments. It turns out that Seo Dal Mi remembers him as her 'cool first love', and he decides to begin a startup in the hope of turning Seo Dal Mi's misunderstanding into reality.
Han Ji Pyung begins a startup company to pay off his debt. A team leader at SH Venture Capital, his astonishing investment skills and sharp tongue earn him the nickname, "the Gordan Ramsay of investments". Though he's prickly to most others, he's softer than anyone to one special person who granted him a great favor in the past.
Lastly, CEO Won In Jae has everything society respects: the educational background, beautiful appearance, and money. She considers her background as a second generation chaebol a weakness and does everything she can to create success on her own and be acknowledged for her skills. However, she ends up being used and thrown away by her father, and in order to stop being a disposable piece on her father's chess board, she throws herself into a startup.
裴秀智在剧中饰演虽然考上了大学,但为了赚取超过1亿韩元的机会费用,退学后几乎什么兼职都做过的徐达美。 因为很早就开始了社会生活,人脉广,关系好。 不想输给嫁给财阀二世的姐姐,怀着乔布斯的梦想走上了苦难的道路。 南柱赫将担任三山科技创始人南道山。 他喜欢编程,小时候就获得了数学奥林匹克最年轻大奖,是南氏家族的期望。过了15年后的今天,却是家破人亡的状态。 和朋友们一起投身创业,创业已经2年了但是只浪费了投资资金。 这是裴秀智和南柱赫的首次组合。 就像两位演员的相遇一样,导演和作家的期待也很大。
Other Names: 스타트업 / Saendeubakseu / Sandbox / Seutateueop / seutateueob / 샌드박스 / Startup
Release Date: 17 Oct2020 – 06 Dec2020
Language: Korean
Genre: Business, Comedy, Romance, TV Series, Korean Drama
Running Time: 16 Episodes
Director: Oh Choong Hwan (오충환, 吴忠焕)


Start Up Trailer:
Chinese Episodes:
English Subtitles Episodes: