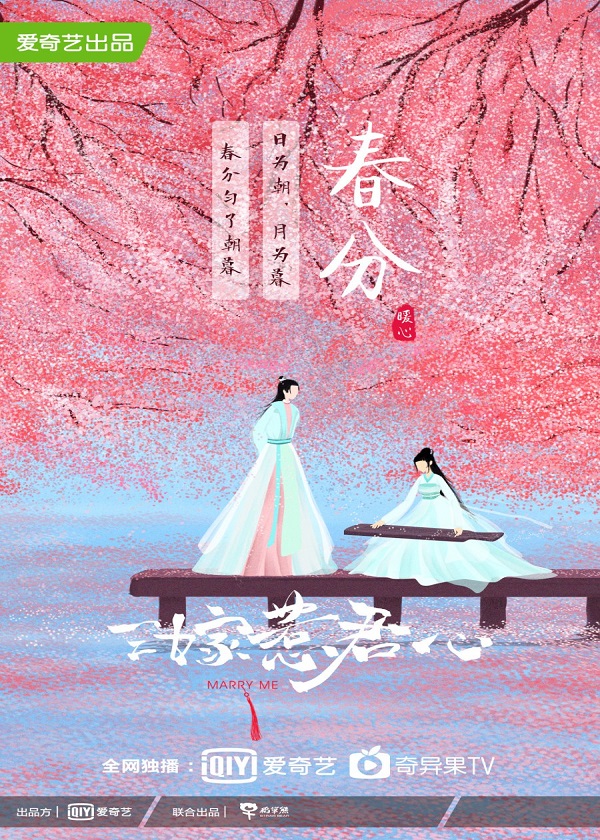 "Marry Me – 三嫁惹君心" is about love story of the 2nd brother of the Dragon Family. He is one of the most successful businessmen in the capital and one of the Emperor's favorites – he is the most eligible bachelor in the capital and every lady in town wants to marry him.
The story starts with the female lead, Ju Mu Er, a blind teacher of guzheng, who goes to pay a visit to Long Yue to ask him to build an awning on his popular business street so her friend, a flower seller, will not get wet and fall sick. Long Yue laughs at her (because he loves money and is calculative) and she makes a bet with him that she can allow him to escape from a pesky female suitor without making it obvious.
She successfully wins the bet and from then on, Long Yue constantly makes her life trouble (since she costs him so much money)…. not realizing he is slowly falling for her.
该剧讲述居沐儿原本闲逸的生活因师父师伯音含冤枉死而瞬息万变,并因此双目失明,误打误撞之下闯入京城首富龙跃的生活中。居 沐儿决心替师父昭雪沉冤,岂料接二连三的案件将二人牵扯其中。居沐儿一面查案,一面遭已婚男子逼婚,为求善了,主动提出与龙跃协议成婚。然朝夕相处中,二人渐生情愫,居沐儿不想师父的案情牵连龙家,便设计让龙跃产生误会从而休妻。事后龙跃得知真相,二人再结姻缘。随着调查深入,案情越发扑朔迷离,居沐儿险遭灭口,龙家也陷入前所未有的困境。二人心系彼此,却不得不为了对方暂且和离,共同对敌。当真相大白一切都尘埃落定,龙跃再次迎娶三嫁于他的居沐儿,终于幸福相拥。
Other Names: San Niang Re Jun Xin / Three marriages provoke the king's heart
Release Date: 09 Sep2020 – 16 Oct2020
Language: Chinese
Genre: Romance, Comedy, Historical, TV Series, Chinese Drama
Running Time: 45 Episodes
Director: Vicky Wong (黄伟杰)


Marry Me Trailer:
Chinese Episodes:
English Episodes: