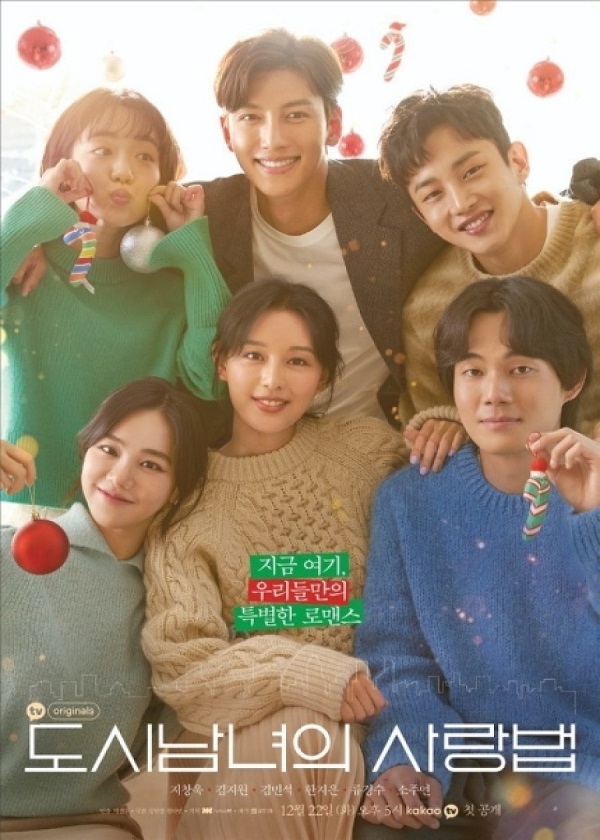 "Lovestruck in the City – 都市男女的爱情法则" is about story of a realistic portrayal of young people who pursue romance and happiness, while struggling to get by in a busy, competitive urban environment.
Park Jae Won is an honest man, a passionate architect and lover of city alleyways. His hobby is collecting new hobbies. A romantic at heart, he cannot forget a certain woman. This thief of his heart, and his camera, has disappeared, much like a fleeting midsummer night's dream.
Lee Eun Oh is an ordinary woman who temporarily re-invents herself as the spontaneous and free-spirited Yun Seon Ah. On a whim, she heads to parts unknown, where Jae Won falls in love with her new identity.
此剧主要講述的是在複雜的都市中,因為生活而暫時想脫離真正的我,藉由夢想著"另一個我"去尋找幸福和愛情,主要角色們演繹出比任何人都坦誠、積極面對自己人生的"真"戀愛故事引起了共鳴,而池昌旭和金智媛分別飾演充滿熱情的建築師"朴載元"和自由職業者"李恩梧",演繹了歷代級浪漫演技。而本劇劇情輕快而不沉重的愛情法與多彩的城市風景相融合,將帶來別樣的樂趣。
Other Names: 도시남녀의 사랑법 / 爱在大都会 / 都市男女爱情法 /Lovestruck in the City / City Couple's
Release Date: 22 Dec2020 – 21 Feb2021
Language: Korean
Genre: Romance, Life, TV Series, Korean Drama
Running Time: 16 Episodes
Director: Park Shin Woo (박신우,朴信宇)

| | | |
| --- | --- | --- |
| Stars | | Cast |
| Ji Chang Wook (池昌旭, 지창욱) | – | Park Jae Won, 朴宰元 (32歲,建築師。浪漫主義者) |
| Kim Ji Won (金智媛, 김지원) | – | Lee Eun Oh / Yoon Sun Ah, 尹善雅/李恩梧 (29歲,行銷員。擁有自由靈魂) |

Lovestruck in the City Trailer:
Chinese Episodes:
English Subtitles Episodes: