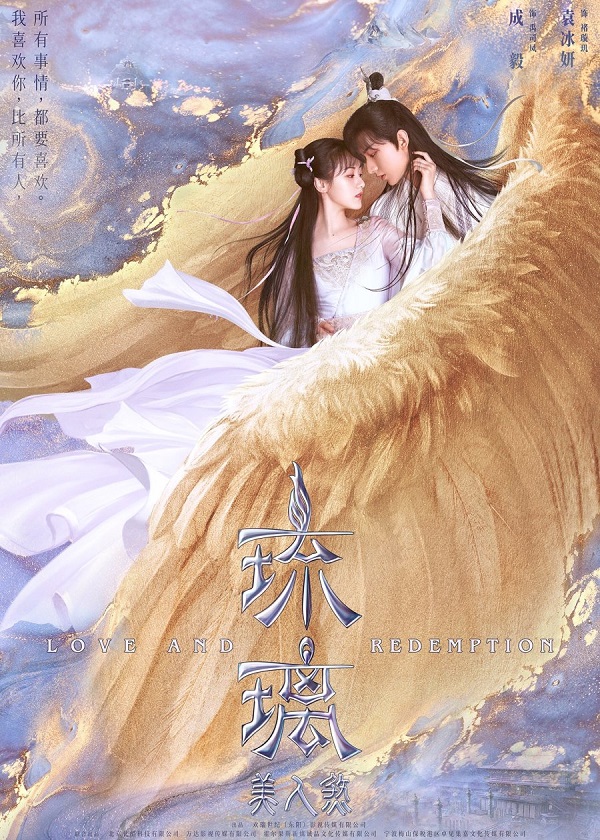 "Love And Redemption – 琉璃美人煞" is according to legends, the god of war saved the heavens in a deadly battle against the demon a thousand years ago. Both fell from the heavens and disappeared from the world. Chu Xuan Ji was born to the world lacking in the six senses which makes her rather clueless and inept. She befriends Yu Xi Feng, the outstanding head disciple of Lize Palace who falls for her, thus beginning a xianxia romance that is entangled with the conspiracies from the past.
The Zan Hua Tournament is being held in the Shaoyang Sect and its leader Chu Lei has two daughters – his trusted eldest daughter Chu Ling Long, and the youngest daughter Chu Xuan Ji who is lazy and terrible at martial arts. When Yu Si Feng and Chu Xuan Ji meet through a coincidence, they forge a friendship with each other. Yu Si Feng falls for Xuan Ji despite the harsh consequences that he must face as it is forbidden for students of Lize Palace to fall in love.
Meanwhile, Ling Long clashes with Wu Tong after she criticized his foul actions at the tournament. In retaliation, Wu Tong accidentally injures Xuan Ji and gets expelled. Having recovered from her injuries, Xuan Ji promises to concentrate on cultivating. Four years later, Xuan Ji and Yu Si Feng meet again. Si Feng wears a mask due to a curse that can only be broken if he finds true love.
天生"六识"残缺的少女褚璇玑和离泽宫弟子禹司凤等一众江湖热血少年们在面临爱情与前世阴谋的双重压力下,经历磨难,饱尝悲欢离合,一路成长与收获,携手共对百般腥风血雨,缔造了一段极具色彩的仙侠传奇。
Other Names: 琉璃 / The Colored Glaze Beauty / Liu Li Mei Ren Sha
Release Date: 06 Aug2020 – 10 Sep2020
Language: Chinese
Genre: Romance, Martial Art, Fantasy, TV Series, Chinese Drama
Running Time: 59 Episodes
Director: Yin Tao (尹涛)

| | | |
| --- | --- | --- |
| Stars | | Cast |
| Crystal Yuan (袁冰妍) | – | 褚璇玑 (少阳派掌门褚磊次女,出生就身带异相,天生六识残缺,不懂人间情爱,却最终被司凤缠绵入骨的爱触动) |
| Liu Xue Yi (刘学义) | – | 昊辰/白帝 (少阳山上,是天才弟子跟暖心师兄昊辰) |
| Cheng Yi (成毅) | – | 禹司凤 (离泽宫弟子,金翅鸟妖族) |
| Zhang Yu Xi (张予曦) | – | 褚玲珑 (少阳派掌门褚磊长女,璇玑的双胞胎姐姐。天真热情,嫉恶如仇) |

Love And Redemption Trailer:
Chinese Episodes:
English Episodes: