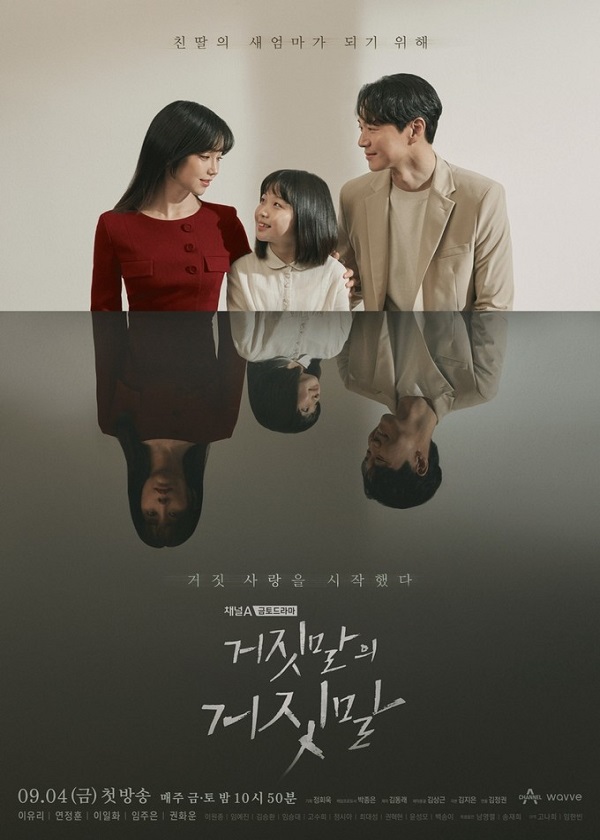 "Lie after Lie – 谎言的谎言" is about a woman who appears to have it all. Married into a super-rich family, she assumes that the rest of her life will be an easy ride.
But when her husband is murdered, she is sent to prison – with a court finding her guilty of killing her spouse.
However, this will be no straightforward jail sentence: She is pregnant, and gives birth to a baby girl while still behind bars.
The child is taken away from her and given to foster parents, with her adoptive father Kang Ji Min, a kind-hearted, justice-loving journalist.
When Kang Ji Min finds himself alone and taking sole care of the young girl, Ji Eun Su – now free from prison – concocts a plan that she believes will reunite her with her daughter.
She will find a way to win Kang Ji Min's heart – and become her own daughter's stepmother.
But the truth has a way of coming out…and if it does, how will her new family react?
《谎言的谎言》是爱情悬疑片,一个女人因为被诬陷杀害其丈夫而入狱,出狱后为了寻找被领养走的女儿,她决心成为女儿的养父、罹患绝症的志敏的妻子,因为女儿而开始的虚假爱情渐渐变成真的。 李宥利饰演池恩秀,她是财阀家媳妇,但一夜之间变成杀夫嫌疑犯,为了找回她在监狱里生下的女儿而孤军奋战。 延政勋饰演既亲切又正义的记者,独自抚养养女的姜志敏。 李一花饰演池恩秀的前婆婆金活兰,被指为杀害自己儿子的杀人犯,表现出了没有血泪的可怕面貌。
Other Names: 거짓말의 거짓말 / Geojitmaleui Geojitmal / Lie of a Lie / Geojitmalui Geojitmal / Lies of Lies
Release Date: 04 Sep2020 – 24 Oct2020
Language: Korean
Genre: Suspense, Romance, TV Series, Korean Drama
Running Time: 16 Episodes
Director:
Kim Jung Kwon (김정권,金正權)

| | | |
| --- | --- | --- |
| Stars | | Cast |
| Lee Yoo Ri (李幼梨, 이유리) | – | 池恩秀 (D.O化妝品前媳婦, 她忍受著丈夫沒有理由的疑妻症和暴力, 過著地獄般地日子) |
| Yeon Jung Hoon (延政勳, 연정훈) | – | 姜智敏 (親切有正義感的A頻道文化部記者, 妻子的出軌, 讓養女宇宙差點喪命) |
| Lee Il Hwa (李壹花, 이일화) | – | 金浩蘭 (池恩秀的前婆婆, D.O化妝品公司會長) |
| Im Ju Eun (林珠銀,임주은) | – | 殷世美 (智敏的前妻, 體育經紀人) |
| Kwon Hwa Woon (權華夽,권화운) | – | 金延俊 (PGA職業高爾夫選手, 喜歡恩秀) |
| Go Na Hee (高娜熙,고나희) | – | 姜宇宙 (智敏的養女, 池恩秀的親生女兒) |

Lie after Lie Trailer:
Chinese Episodes:
English Subtitles Episodes: