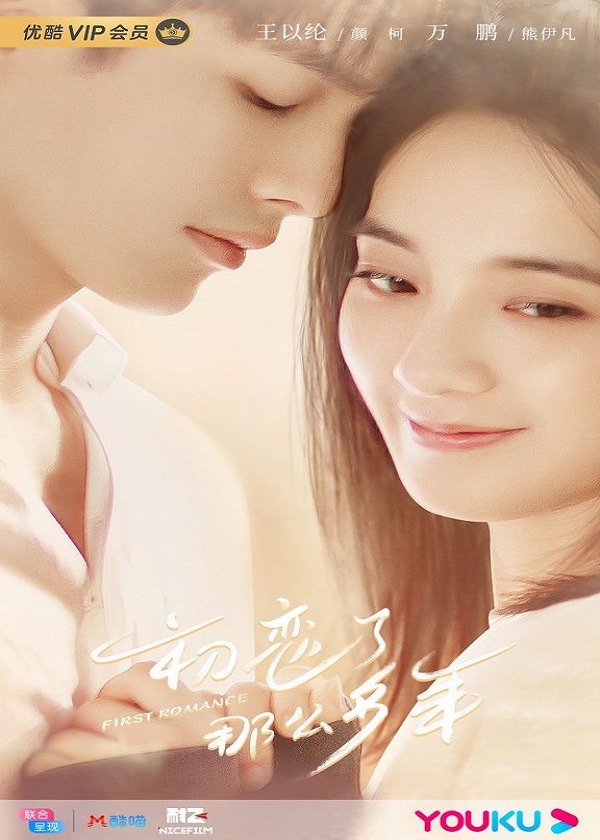 "First Romance – 初恋了那么多年" is about story set in many years ago, Yan Ke and Xiong Yi Fan were schoolmates. But back in her younger days, she never discovered that she had a secret admirer in Yan Ke, who kept his crush a secret and loved her from afar. Now things are very different for both of them, and Yan Ke is at college, where he is one of the most popular and well-loved students on campus.
Dashing, sensitive, a hit among the female students, and unfailingly charming, he has also become a budding young pianist. However, deep down, he feels unfulfilled and lacking in purpose.
When a bizarre set of circumstances leads his path to once again cross with Xiong Yi Fan, it is her turn to be smitten at first sight. Will love continue to evade them? Or could Cupid finally unite this duo?
该剧讲述怪力少女熊伊凡(万鹏 饰)因一次"意外"与颜柯(王以纶 饰)偶遇,自此便将颜柯当作恋爱目标猛追不断。两人的错位误会让情愫萌芽,在大学校园里彼此互相试探、互相靠近,碰撞出一连串欢脱、苏甜、惊喜、感动的初恋爱情故事。
Other Names: Chu Lian Le Na Me Duo Nian / First Love After So Many Years / 初戀了那麼多年
Release Date: 14 Sep2020 – 01 Oct2020
Language: Chinese
Genre: Romance, Music, TV Series, Chinese Drama
Running Time: 24 Episodes
Director: Pei Ding (丁培)

| | | |
| --- | --- | --- |
| Stars | | Cast |
| Wan Peng (万鹏) | – | 熊伊凡 (大一标枪体育特长生,对生活乐观积极,对朋友真诚坦率,对爱情勇敢执着,对这一切也抵不过她如钢铁直女一般不解风情的心) |
| Riley Wang (王以纶) | – | 颜柯 (大一钢琴特长生,对待音乐严谨且热爱,对待生活冷静笨拙,对人礼貌,界限分明) |
| Ken Wu (吴汉坤) | – | 白语泽 (大二摄影系学生,情场自驾老司机,我就是这条街上最靓的仔) |
| Zheng Shu Huan (郑舒环) | – | 丁茗 (大一新闻系学生,纸上谈兵的学术派恋爱军师) |
| Hanna (卢洋洋) | – | 唐糖 (大二音乐系学生,无法抗拒大高段位正能量甜美女生) |
| Wei Tian Yu (魏天宇) | – | 齐小松 (健身房新贵,四肢发达,头脑简单的土味男孩) |

First Romance Trailer:
Chinese Episodes:
English Episodes: