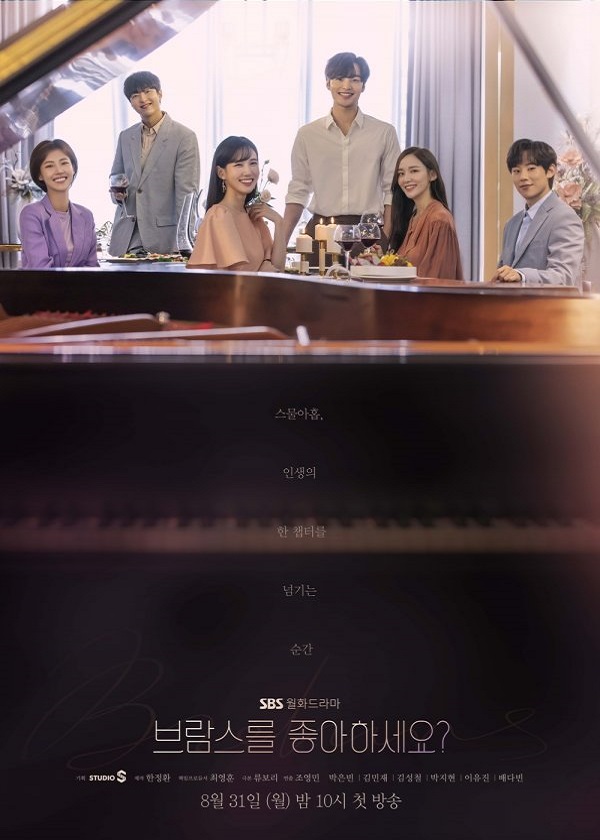 "Do You Like Brahms? – 你喜欢勃拉姆斯吗" is about students at a prestigious music school and the people in their lives. It will tell the stories of the students experiencing lessons, practicing, performing, and competitions since a very young age along with their parents and teachers who obsess over these processes.
Park Joon Young started playing piano when he was six years old. He won prominent national competitions before going on to win competitions across the world.
Chae Song Ah, a college senior majoring in violin performance. After graduating previously as a business major, she entered the same university again to go to the music school after four attempts and is seven years older than her classmates.
该剧讲述名门音乐学院的学生们和他们周围的人们的故事。从三、四岁起就接受专业练习、演奏、参加音乐会的学生,以及对这些孩子们付诸才能、支持、爱、关注、执着的家长和老师的故事。 金旻载剧中饰演钢琴师朴俊英,他在国内数一数二的钢琴比赛获胜后,在各种国际比赛上数次夺冠。他的家庭是和古典音乐无缘的"司机食堂",他6岁开始对钢琴觉醒,接受文化财团长年的后援,走上艺术中学-艺术高中-音乐大学的精英路线。 朴恩斌饰演音乐学院器乐系小提琴专业大四学生蔡松儿。她从管理系毕业后,挑战了4次才考入同一所大学的音乐学院,因此比同学们大7岁。是一个因为毕业后的就职问题和单相思而烦恼着的29岁的女生。
Other Names: 브람스를 좋아하세요? /Beuramseureul Joahaseyo / Please Love Brahms / Liking Brahms / beuramseuleul jonghahaseyo / beuramseuleul jonghahaseyo?
Release Date: 31 Aug2020 – 20 Oct2020
Language: Korean
Genre: Friendship, Music, Romance, TV Series, Korean Drama
Running Time: 16 Episodes
Director:
Jo Young Min (조영민, 赵英民)

| | | |
| --- | --- | --- |
| Stars | | Cast |
| Kim Min Jae (金旻載, 김민재) | – | 朴俊詠 (在2013年舉辦的蕭邦國際鋼琴大賽中,首次以韓國人身分獲得「第一名從缺的第二名」的著名鋼琴家) |
| Park Eun Bin (朴恩斌, 박은빈) | – | 蔡頌雅 (就讀於西嶺大學經營系,經過了四次重考後,以新生的身分進入了同校的音樂系) |
| Lee Yoo Jin (李有鎮, 이유진) | – | 尹東允 (颂雅的朋友兼小提琴老师) |

Do You Like Brahms? Trailer:
Chinese Episodes:
English Subtitles Episodes: