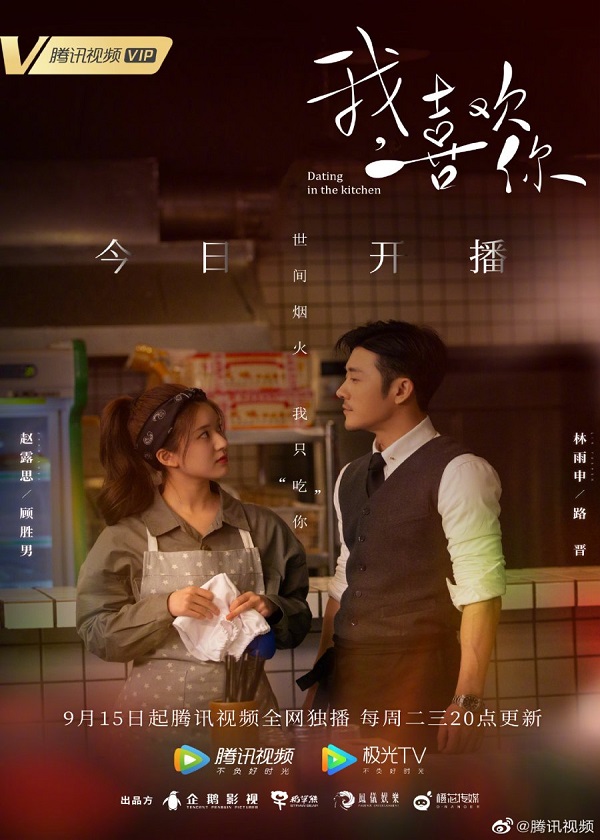 "Dating in the Kitchen – 我,喜欢你" is about story working as an assistant chef at the Zijing Hotel, Gu Sheng Nan was a woman well on her way to making her dreams come true. Well situated, in a job that she loved, she was free to express herself through her food, as she sharpened her skills as a chef. In addition to having a great job, she was happily settled in her secret relationship with the hotel's head chef. Convinced they were destined to build a beautiful life together, Sheng Nan was devastated the day she caught her boyfriend cheating.
As if breaking up with her boyfriend wasn't bad enough, Sheng Nan soon learns that she may soon be out of a job, thanks to the hotel's impending acquisition. To make matters worse, an unfortunate misunderstanding lands her on the wrong side of her soon-to-be boss, the sharp-tongued CEO, Lu Jin.
As a business prodigy, Lu Jin isn't afraid to make the tough decisions. Ready to condemn the Zijing Hotel, Lu Jin changes his mind after a happy accident brings one of Sheng Nan's dishes his way. A hardcore foodie, Lu Jin is impressed with Sheng Nan's skill as a chef and readily recognizes her talent. Sharing a love of food, this unlikely pair begins to form an unexpected bond that leads them to a place neither of them ever expected to be.
该剧由蓝白色的小说《终于等到你》改编,主要讲述了毒舌的吃货总裁路晋与女厨师顾胜男,在美食与爱的双重魔力下最终相爱,收获美满幸福的故事
Other Names: Xi Huan Ni / Like You / This Is Not What I Expected / Wo Xi Huan Ni / 喜欢你 / I Like You / 终于等到你 / Finally Wait for You / 我喜欢你
Release Date: 15 Sep2020 – 29 Sep2020
Language: Chinese
Genre: Romance, Food, Comedy, TV Series, Chinese Drama
Running Time: 24 Episodes
Director: Chen Chang (陈畅)

| | | |
| --- | --- | --- |
| Stars | | Cast |
| Lin Shen (林雨申) | – | 路晋 (挑剔又龟毛的另类总裁,虽然看似高冷寡言,对美食有着近乎苛刻的执念,实则内心柔软细腻,吃货属性显露无疑) |
| Rosy Zhao (赵露思) | – | 顾胜男 (惨遭失业打击的活力女厨师,与路晋因菜结缘,开启了啼笑皆非的饭友模式) |

Dating in the Kitchen Trailer:
Chinese Episodes:
English Episodes: