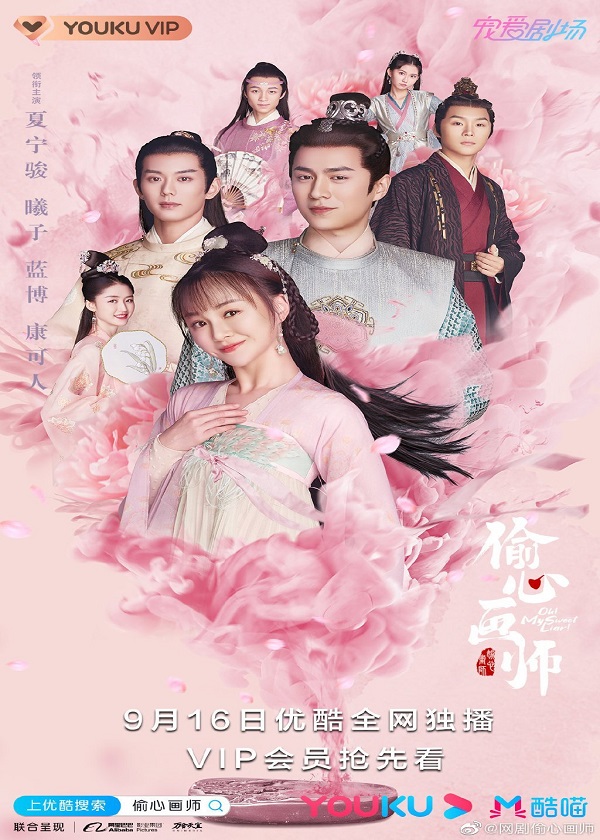 "Oh! My Sweet Liar! – 偷心画师" is about story of Xiong Xi Ruo is a young female painter who infiltrates the family home of the powerful Li family to paint a copy of a precious item. However, her escape from the Li home goes horribly wrong and she finds her fate at the mercy of Li family heir Li Hong Bin.
On the verge of arrest, Li Hong Bin and Xiong Xi Ruo hatch a lie – they pretend that she is pregnant with his child. This arrangement suits Li Hong Bin fine, as a marriage with Xiong Xi Ruo will help him escape an arranged marriage with the daughter of the Song family – a union he is particularly keen to avoid.
The Li family grants its consent for Li Hong Bin and Xiong Xi Ruo to get married, but it is not long before some relatives – and the plotting Song family – begin to suspect that the pregnancy is a fake. Meanwhile, as Li Hong Bin and Xiong Xi Ruo spend more time in each other's company, they begin to develop a growing fondness for one another.
Could love bloom between the pair? And can they survive – or even thwart – the schemes at court?
该剧讲述天才少女画师熊熙若拥有过目不忘的绘画能力,因画云瑶李氏贵族的秘闻连环画而被抓捕。逃亡中接下报酬丰厚的订单,化身小厮潜入李府,画一张神秘的"四大罗汉图"。熊熙若被安排到传说中的残暴大公子李弘彬身边,并阴差阳错和他共度一夜。熊熙若试图逃离却被逮个正着,情急下谎称自己怀了李弘彬的孩子。恰逢其时李弘彬为逃避和宋家千金联姻,借此与熊熙若开始了假夫妻的婚姻,这对欢喜冤家在朝夕相处中逐渐真心相爱。李府几方势力各怀鬼胎,都试图拆穿熊熙若身份,同时京城宋氏对云瑶云铁虎视眈眈,李府面临内忧外患。熊熙若从作画任务中发现秘密,与李弘彬携手破除族内叛徒阴谋,化解了云瑶危机,两人终成眷属。
Other Names: Tou Xin Hua Shi
Release Date: 16 Sep2020 – 10 Oct2020
Language: Chinese
Genre: Romance, Historical, TV Series, Chinese Drama
Running Time: 29 Episodes
Director: Cheng Ming Ko (柯政铭)

| | | |
| --- | --- | --- |
| Stars | | Cast |
| Xia Ning Jun (夏宁骏) | – | 李弘彬 (云瑶乐安公李家大公子,冷酷霸道、自负高傲,行事暴戾果断。惧怕尖嘴生物,一喝酒就会变成小可爱) |
| Xi Zi (曦子) | – | 熊熙若 (云昭艺馆画师,云瑶李府的假孕少夫人) |
| Lan Bo (蓝博) | – | 李弘煜 (云瑶乐安公李家二公子) |
| Kang Keren (康可人) | – | 戴如儿 (乐安公夫人的远房亲戚,李弘彬的表妹,表面和善,实则善妒多疑,为求上位不择手段) |

Oh! My Sweet Liar! Trailer:
Chinese Episodes:
English Episodes: